I must admit, I am still in absolute awe of the incredible talent that was in the room on Saturday evening at this years One Voice Awards, and furthermore, what a wonderful group of people. The support network in the voice over industry is one of the most incredible I have ever encountered. The friendship, help, shoulder to cry on, all of it. Which is really interesting for an otherwise known job for being locked in a box all day talking to yourself.
Since 2019 I had entered the One Voice Awards, and from the first entry was elated to achieve a nomination! In 2019 I was nominated for, Best Overall Performance in Radio Commercials (Male) for an ad which I'd recorded for Amazon in the back of a rental car, in the blistering Florida heat!
Amazon Audible Summer Campaign – 2018

Fast forward to 2021, I was nominated again, this time for Best Outtake of the Year (literally for a fart during a live session), and the very prestigious, Male Voice Over of the Year. I couldn't believe I was nominated for such an accolade, amongst some of the industries top talent.
Nominee – Best Outtake of the Year 2021 – Gassy Asda

In late 2021, I was nominated for a VOX Award, ran by the same people as One Voice Awards carrying on a legacy event ran by industry veterans since the mid 90s. I was so pleased to be nominated for Best In Store Message, a genre of voice over I love voicing. This was for an advert I did for Asda in store, which I have been very proud to be doing since 2018.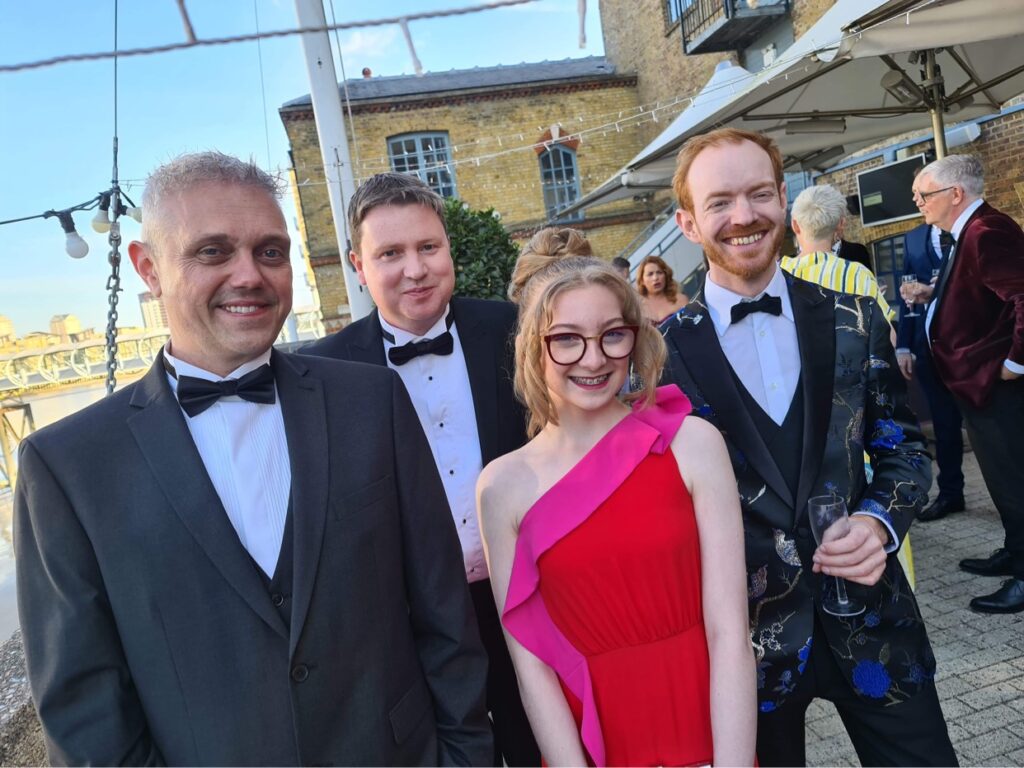 Then came this year, 2022. When the awards submissions were announced, I was a little more prepared than in previous years, and threw in all the stuff I'd set aside for consideration. I was allowed to submit 10 entries, and I managed to scrape together 9, which I had deemed in my own mind, the best selection of the work I'd completed in the previous year. To make it up to 10, I trawled back through the work I'd done over the previous year, and stumbled across an ad for Asda Mobile.
In April 2021, Jack Allan from Mood Media had come to me to voice this. The reason being, because it was cheeky, fun and comedic, a style which I am often brought in to perform. It was a great fun advert, so I thought "why not!", and popped it in as my final submission.
A few weeks later from submission in early 2022, the nominations were announced. Would you believe, that was the one that was nominated, along side a nomination for Outtake of the Year again. A nomination is always such a fantastic thing to have, and I was so pleased to have that recognition again for work I obsess over the criticism of. Roll on May 14th!
Eurovision weekend, May 14th 2022, how devastated I was that this weekend was a clash with the One Voice Awards 2022. I am an avid Eurovision fan, annually I have a get together at home and we watch the festivities and have a belting night! Pretty much my fave annual occasion of the year. But, this year, I was going to have to miss it.
I love attending One Voice and likewise VOX, it's a great opportunity to catch up with friends and colleagues, and meet new people. Being based in the North East you can feel some what detached from the industry a little, but seeing everyone really does help alleviate that feeling some what.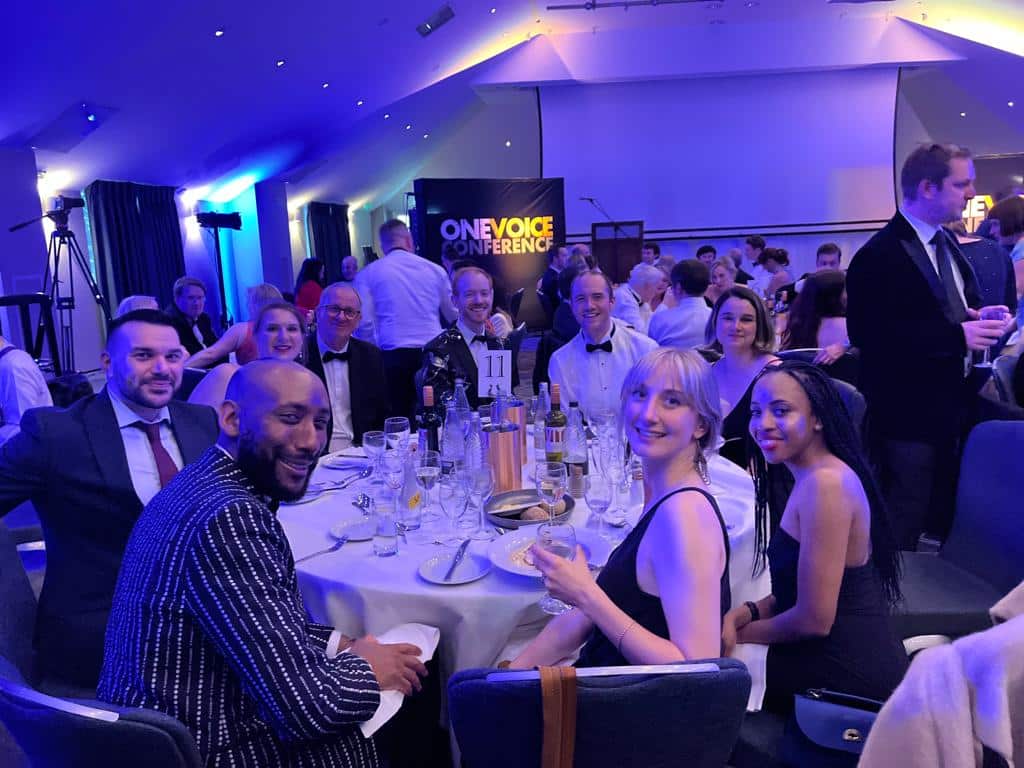 The weeks leading up to this years' One Voice Awards I was experiencing a period which many, if not all actors experience. The self doubt, the looming feeling of whether you're taking the right path and capable of achieving anything, it was weighing on me like an anvil. I was hoping seeing others at the weekend might just reinvigorate my mindset. Little did I think that the reinvigoration I was to have from the weekend in addition to seeing everyone there, would be a piece of glass with my name etched into it.
When the nominations were announced, Peter Dickson, who was hosting the awards as always, announced that there were two voice overs who had achieved the exact same score in the category. After a moment of poised breath, he announced my name along side long time friend, Jack Oddie.
I dropped my head to my hands, and had a moment of incredible emotion! Composing myself I made my way to the stage to the sounds of applause as the ads began to play out. Jack gave a very brief and fun speech, after which the stage opened up to me.
I hadn't prepared, I didn't think this would happen, what should I say? After a moment of awkwardness I finally said some words. Mostly acknowledging Jack as a support rock at the very early stages of this journey.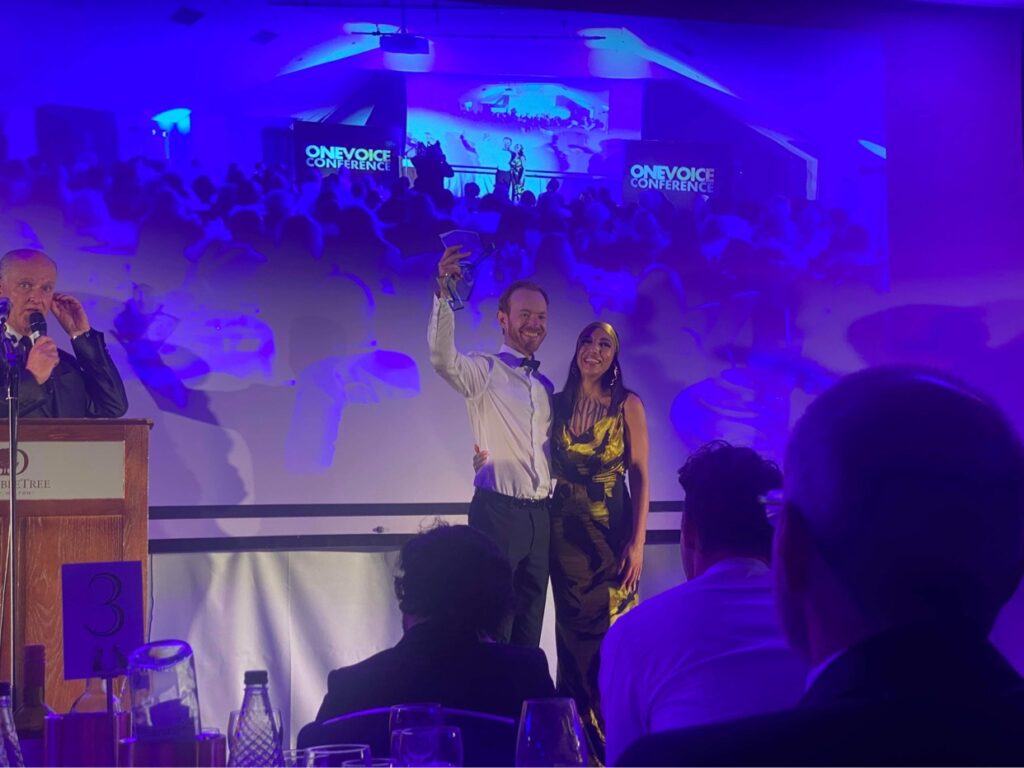 In late 2016, as I've mentioned in my previous blogs about taking the step into this industry, during which my business was falling apart around me, as was I. Charles Martinet who voices Super Mario and other characters of the franchise, kicked me back into gear and set me on this voice over pathway. So, I reached out to Jack, and he responded in such a warm and supportive manner. Jack almost took me under his wing, inviting me to his home to record some pieces for my demo reel in his studio, and really filled me with the confidence I so needed to get going in this career. To win an award, along side him, was such a tremendous honour. Thank you Jack.
Winner – Telephony / IVR / In Store, Best Overall Performance

Nominee – Best Outtake of the Year

And thank you to the other countless names who've picked me up from a heap, inspired me, driven me, satisfied my tantrums and concerns. I love you all.
Special Thanks to;
Ally Murphy,
Bhav Parmar,
Ian Brannan,
Katie Flamman (for telling me to submit for the first awards),
Jack Oddie,
Alexia Kombou
Marc Silk,
Drew Campbell,
Andy Kavanagh,
Margaret Ashley,
Jo Whitfield,
Sally Beumont,
Walles Hamonde,
Zoe Hakin,
Rachael Naylor,
Danny Cowan,
Andrew Spooner,
Mak Wilson,
and Hugh Edwards.
My wonderful VO support group;
Annie Warburton,
Tiffany Clare,
Marilena Gant,
Jo Troy,
Alexandra Boulton,
Alix Perry,
Dede,
Kelly Macbride,
Seb Brown,
Michael Ashtiany.
And of course, the two people who inspired me to get going in the first place, Peter Dickson who graciously gave me so much time over the years from out initial contact in 2007 and Charles Martinet who kicked me back into action after the big bump in the road.