Video Samples of voice over work…​
Hey it's me! Dan Pye, Voice Over Actor and lover of Space!
I'm an Authentic North Eastern British Male Voiceover, friendly, funny, trustworthy, next door neighbour, excitable, and quirky. My voice is very unique and distinctive, as it differs from a lot of North East accents given the amount of areas I have lived in the North East. I specialise in Character voice creation. I have Experience in creating voices for Video Games, Commercials, Narration, Continuity, Stage and Screen and more! A fun fact about me is I am a professional Science Presenter, specialising in Astronomy, and have delivered talks to thousands of people from all over the world as a fully fledged Fellow of the Royal Astronomical society.
Over my career I have been trained as an actor, with training attained from various industry professionals and a background in stage acting and theatrical studies. I have worked with an incredible range of clients such as, BBC, Sky TV, Universal Studios, Channel 4, Amazon, Asda, Tesco and more. I have a broadcast quality home studio with Source Connect, CleanFeed and ipDTL for quick delivery. Look forward to hearing from you to discuss how I can bring your next project to life! 
"Both the client and us agree that your voiceover talent really makes the video, and the SFX add another layer that really make the character stand out. The fact that you provided such a range of takes, adding different tones and inflections to the same phrases, especially with the SFX, really helped me when I came to the editing stage."
"Dan is great to work with - professional, friendly, and asks the right questions to make sure he's delivering the right read for your project. Dan's voice is incredibly versatile too, making him a great choice for a whole range of stuff... from characters to corporate!"​
"I think Dan's voice is perfect. I've always loved the Geordie accent and you've nailed the emotion perfectly. "
"Dan was great to work with – responsive, flexible and a brilliant voice. He understood just what was needed for the tone of voice, and gave me plenty of great takes to work with. Thanks for all the hard work, looking forward to the next one!"
"Dan has a great voice, is flexible and takes excellent direction, i would highly recommend Dan"
"Dan changed the face of my business with effective, natural presentation on screen, making it easy for my customers to understand our process, and give them essential information through tutorial and how to videos."
Hello! I'm British Male Voice Over Actor, Dan Pye and I've been around the media and broadcast industry since I was 14 years old, with education and professional acting training. I've worked on voice over and broadcasting projects from commercials, promotions, radio stations, web videos, imaging, voicing characters for animations, video games, to name but a few, with some of the worlds largest broadcasters and production studios, such as Channel 4, Universal Studios, BBC, Barclays Premier League, SiFi Channel and much more. I have a naturally light Geordie accent, friendly, engaging, fun, excitable.
Voice Overs can be made available within the hour! Via ISDN over ipDTL or delivery MP3/WAV and more*
I specialise in developing characters voices, from their personality traits, understanding their physical appearance and emotional state, to build a voice that perfectly matches your character. I was educated in the Theatrical Studies, Media and Arts at Newcastle College and University.
I have experience working on;
– Commercials
– Continuity Announcing
– Narration
– Web Videos
– Public Speaking
– Event Voice Over / Voice of God
– Explainer Videos
– Audio Drama
– Animations
– Video Games
I regularly receive one-to-one sessions from various industry professionals, including the Voice Over Network and Gravy for the Brain.
Natural Voice and Narration; Northern British / Geordie (Durham)
Characters and Accents; From typically British RP, to a wide range of regional accents and character voices, suitable for Gaming Voice Overs, Dramatics, Animation and Characters and more.
I'm ready to go within the hour in a professional recording studio, with turn around possible within the hour, and delivered in your required format via ISDN via ipDTL, email, dropbox, WeTransfer, MP3 format or WAV.
EQUIPMENT Recorded in high quality via Sennheiser MK4 through a FocusRite Scarlet 2i2, in Studio, or portable studio set up Apogee 96k MiC.
I'm ready to audition on via ISDN, or other delivery methods by calling 07519 556 248 or email by clicking here
Click here to hear my latest Voice Over demo read more about Dan's Voice Overs here
Voices available within the hour*! 9am – 11pm BST/GMT
*Subject to requirements and delivery method. Price may be higher for fast turn around.
Find out more about me here I am also an astronomer, see my work in the world of Astronomy here
I am a STEM Ambassador and in my spare time, and on evenings, I public speak at Kielder Observatory as a Science Communicator around the topic of Astronomy. I spend a lot of cold dark evenings with my camera taking astrophotos, which I share on Social Media. Check out my Twitter, Facebook or Insagram to keep up to date with what I do.
ISDN Voice Over - Dan Pye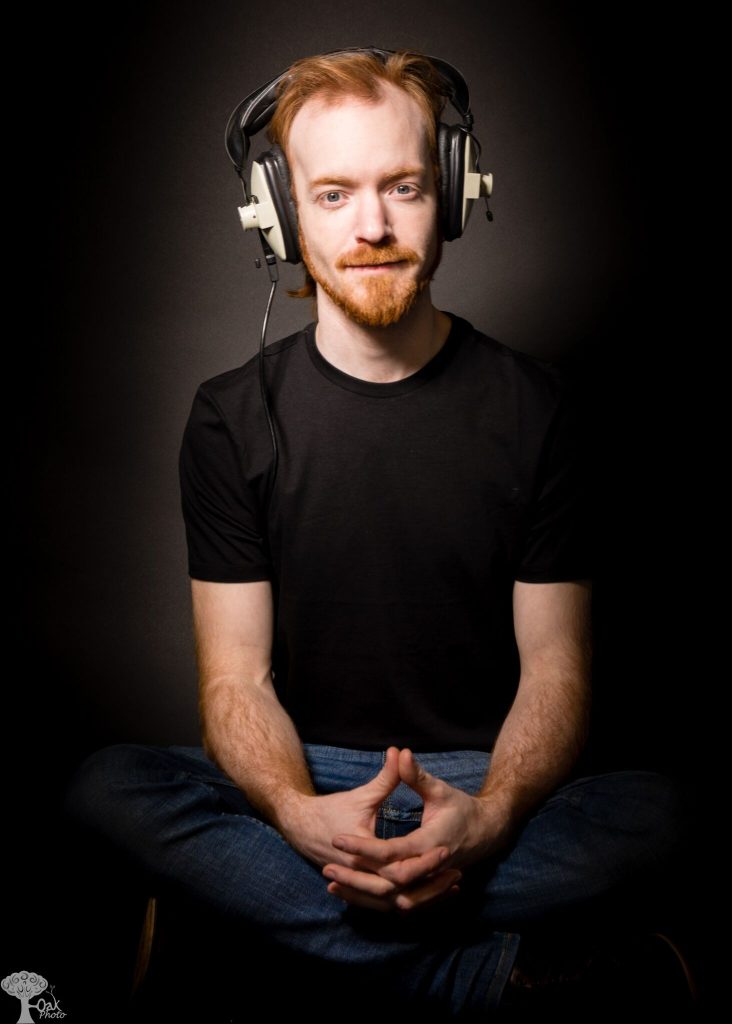 "I originally started Acting with the intention of being on Stage, however I developed such a strong connection to Voice Acting because I wanted to deliver the visual performance, and tell a story in the listeners mind, with just the power of my voice."
Brining projects to life is the most rewarding part of my life and I can't wait to work with you, in breathing life into your next project! I've been acting my entire life, and the experiences I have had, are what I use to harness my character creations for your next production.
My dedication is to assure that I get the final voice just right for you, working hand in hand with you, and turning projects round super quick time. Understanding how important deadlines is to you, means I will work whatever hours required to get your project back in time.