Voice Over Acting for – Animation – Characters – Commercials – Narration – Video Games
My name is Dan Pye, I'm a Voice Over artist, and I've been in the media and broadcasting industry since I was around 14 years old, from commercial voice overs, continuity, telephone systems, video games, animations, radio stations and more with some of the worlds largest broadcasters, such as Universal Studios, BBC, Barclays Premier League, The Co-op, SiFi Channel and much more.
Voice overs can be made available within the hour!* with ISDN lines, ipDTL, Source Connect or High Quality MP3 Delivery
I have a range of character voices which I am very competent in performing, I love working on character development, by understanding your vision for the characters background, look, and emotional state, to develop a suitable voice. I was educated in the Theatrical Studies, Media and Arts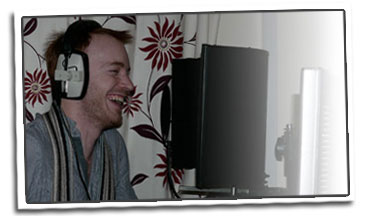 at Newcastle College and University. I also have a history of voice acting animations, from cartoon animals and other animated character voices. I can translate a script and work with you to bring it to life, and icing the cake that is your next production.
Recent and current training and mentoring with Peter Dickson and Hugh Edwards with their professional voice over training program "Gravy for the Brain" and member of the Voice Over Network.
Natural Voice and Narration; Geordie / Northern British (sample here)
Characters and Accents; From typically British spoken to a wide range of regional accents and character voices, suitable for Gaming Voice Overs, Dramatics, Animaion and Charicatures and more.
I am typically ready to go within the hour, pretty much any time of day and evening, with turn around possible within the hour, and delivered in your required format via email, dropbox etc. ipDTL, Source Connect and ISDN lines available.
EQUIPMENT Recorded in high quality via Sennheiser MK4 through FocusRite Scarlet 2i2, in my Durham Studio, travelling auditions recorded on Apogee 96k MiC.
ISDN Lines x 2 – 01388 746 267 (Prima)
Call Dan today for an instant audition on 07519 556 248 or email voiceover 'at' danpye 'dot' com
Click here to hear my latest Voice Over demo read more about Dan's Voice Overs here
Voices available within the hour*! 9am – 11pm BST/GMT
*Subject to requirements and delivery method. Price may be higher for fast turn around.
Commercial Reel

Narration Sample

Gaming Reel

Find me on Sound Cloud