Voice Over Acting for – Animation – Characters – Commercials – Narration – Games
Voice Over artist, Dan Pye has been in the industry for over 15 years, from commercials, continuity, telephone systems, radio stations and more with some of the worlds largest broadcasters, such as Universal Studios, BBC, Barclays Premier League, SiFi Channel and much more.
Voice overs can be made available within the hour!*
With a range of character voices ready to perform, Dan was educated in the Stage, Media and Arts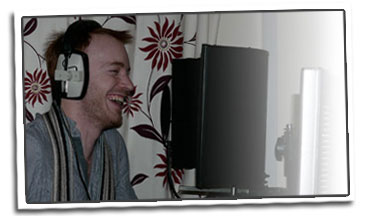 at Newcastle College and University. Dan also has a history of voice acting animations, from cartoon animals and other animated characters. Dan can translate a script and work with you to bring it to life, and icing the cake that is your next production.
From Gaming Voices, Animation Voices, TV & Radio Commercials, Continuity, or any voice requirements you have.
Dan is ready to go within the hour, pretty much any time of day and evening, with turn around possible within the hour, and delivered in your required format via email, dropbox etc. Recorded in high quality via Apogee 96k MiC in our Durham Studio, or on the road by portable studio.
Call Dan today for an instant audition on 07519 556 248 or email voiceover 'at' danpye 'dot' com
Click here to hear my latest Voice Over demo read more about Dan's Voice Overs here
Voices available within the hour*! 9am – 11pm BST/GMT
*Subject to requirements and delivery method. Price may be higher for fast turn around.