Geordie Voice Over, Dan Pye grew up just outside Newcastle, after starting life in West Yorkshire, he developed a great Geordie Accent, which suits many voice over styles, from a natural speaking Geordie, to full Geordie Worker Stereotype, Dan has a Geordie Voice Over to suit all.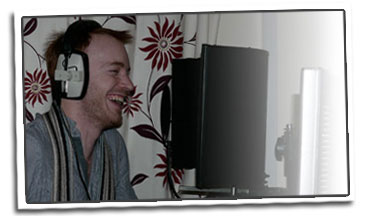 Dan works with you take after take after take to make sure he get's it just right for you. He has access to full studios with ISDN, as well as having professional recording facilities on hand at home, to produce studio quality sound, from morning till night. Most voice overs are delivered within a day or so, and should you require Dan on ISDN, he can gain access to one within the hour on most occasions. So call Dan today to book a Geordie Voice Over, that's flexible to your requirements.  Email Dan today at voiceover@danpye.com find out more about Dan's
Geordie Voice Over
and other Voice Over work by
clicking here
Samples of Geordie Voice Over is coming soon, here's some other samples in the mean time.
Geordie Voice Over
"I think Dan's voice is perfect. I've always loved the Geordie accent and you've nailed the emotion perfectly. "